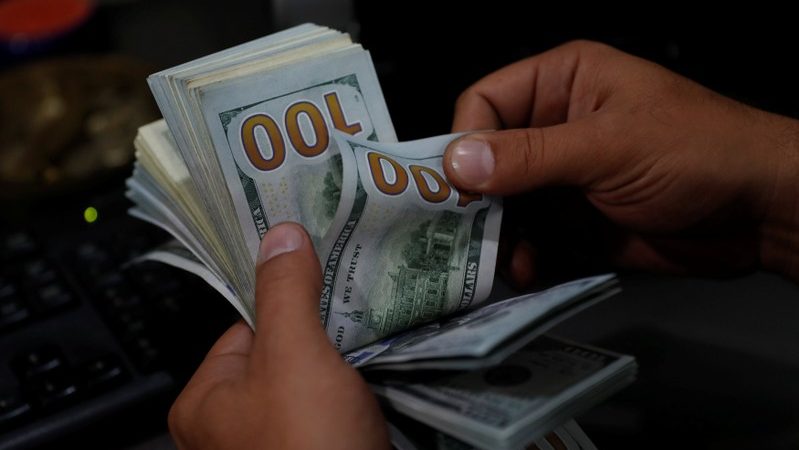 Dollar softens as Powell disappoints bulls, Mexican peso up on NAFTA hopes

Economy7 minutes ago (Aug 26, 2018 09:51PM ET)
By Shinichi Saoshiro
TOKYO (Reuters) – The dollar's safe-haven appeal faded on Monday after risk sentiment in the broader markets picked up following a well-received speech from Federal Reserve Chairman Jerome Powell.
The Fed chairman defended on Friday the U.S. central bank's push to raise interest rates as healthy for the economy and signaled more hikes were coming despite President Donald Trump's criticism of higher borrowing costs.
Powell's comments were also seen to have disappointed some dollar bulls hoping for a more hawkish message.
"Powell sounded natural and his speech was nothing out of the ordinary," said Mitsuo Imaizumi, chief forex strategist at Daiwa Securities.
"But he stuck with the current policy trajectory and this means that the flattening of the U.S. yield curve would be allowed to continue."
The S&P 500 (SPX) and the Nasdaq (IXIC) rose to record highs on Friday, with Powell considered to have stuck with the Fed's policy narrative and doing little to change market expectations for rate hikes in September and December. Equities in Asia rose across the board on Monday.
The Treasury yield curve reached its flattest level since 2007 on Friday. [US/]
A flatter yield curve, in which the rise in longer-term bond yields lags those of shorter-dated bonds, is seen as a factor reducing support for the dollar.
The euro was up 0.2 percent at $1.1644 (EUR=) after going as high as $1.1654, its strongest since Aug. 2. The single currency had advanced more than 0.7 percent on Friday.
The dollar was steady at 111.28 yen <jpy=>after dipping 0.05 percent on Friday.</jpy=>
The Mexican peso <mxn=d4>was up 0.8 percent at 18.77 per dollar. The peso was lifted by news that U.S. and Mexican trade negotiators are "hours" away from squaring away bilateral differences on the North American Free Trade Agreement (NAFTA).</mxn=d4>
The Chinese yuan extended is rally in the offshore market to go as high as 6.8050 per dollar <cnh=d4>, its strongest in a month.</cnh=d4>
The yuan had surged more than 1 percent on Friday after the People's Bank of China said it was adjusting its methodology for fixing the yuan's daily midpoint, amid broad dollar strength and ongoing trade tensions between Washington and Beijing.
Other emerging currencies including the Turkish lira <trytom=d4>and the South African rand <zar=d4>were also on the front foot against the dollar.</zar=d4></trytom=d4>
A broad retreat in emerging market currencies, notably the Turkish lira, earlier this month had been a key source of strength for the greenback.